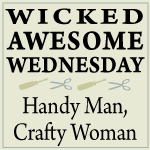 I hate wearing winter hats. I do not look good in those kind of hats that are close to the head. They really make me look like a boy.
Enter PONY HATS! Set your ponytail FREE!!
Last winter, I found a pattern for what I call pony hats and I tweaked and tweaked until I found what I like. Now at least my ponytail can pop out and look cute and I kind of look like a girl!
I tried selling them on etsy last year, but I think it was too late in the season. This year, I've put them out there again and I've sold 5 already! I was making one at a show the other day and a woman asked me to make one in her daughter's school colors, so I did!
They are quick to make, so I don't mind whipping them up by special request.
I made 4 for one woman the other day and I really liked this orange one. She said burnt orange. It wasn't really that easy to find, but I figured this one that said persimmon is pretty close to what I think of as burnt orange.
It's fascinating to look at my own hair from this angle and see all of the white hair! I've refused to color it for all this time and now I figure it's like highlights. Kind of. It certainly adds to the variety of colors I have on my head!
You can get them on my etsy. The link is right over there in the sidebar.